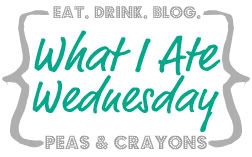 I can't help it! I've always had a thing for taking pictures of my food, but usually just if it was something particularly delicious or nicely presented, but ever since the first time I participated in the
Peas and Crayons
What I Ate Wednesday blog hop, hosted by Jen, I have become a photo fiend at nearly every meal...snack...desert...beverage. Then Deirdre turned me on to Instagram, now I can add cool filters and borders to my otherwise blah cell phone photos...as my 9-year-old, Piper would say "OMG!!!" There is just too much fun to be had with this.
Below are some images of "What I ate..." this week. I am doing a little experiment with dairy-free living because I'm pretty sure that I'm lactose-intolerant (goodbye my Luscious Lover Oooey Gooey Cheese...goodbye my trusted pal Yogurt...it's been real...until my stomach started to yell at me) So you'll see some of my dairy-free alternatives below here too.
(Oh yes I did!) Trader Joe's Cinnamon Roll Bread, toasted and topped with TJ's Cookie Butter (don't know if it's totally dairy-free, but I seemed to do okay.
)
BTW, after these recent posts here and here
,
my Fella--who is an avid LH follower
(
thanks, babe!)--asked me if there would ever again be an LH post that did not mention Cookie Butter. Only time will tell.
"Joe" with agave nectar for sweetener (trying to cut down on sugar too) and Silk Soy Creamer--the only Soy Creamer I like...actually, I LOVE.
Sorry about the sideways pics! Gluten Free Corn Pasta (a couple of my kiddos have Celiac Disease) with crumbled tempeh, tomato sauce, and dairy-free cheese. On the side, sugar snap peas, organic carrots (cheaper at Trader Joe's than the non-organic!) and Roasted Pine Nut Hummus!
So I actually picked up this Daiya dairy-free "cheese" by mistake at Whole Foods recently because it was mixed in with the regular cheese and on-sale. I have to say, it is the best dairy-free cheese I have ever had and as the package promises (see below) it really does melt and stretch! I highly recommend it if you are looking for a non-dairy cheese option.
Organic Brown Basmati Rice topped with steamed kale,
grape tomatoes, avocado, Trader Joe's Soy Chorizo and (yes, I cheated) a little dollop of
plain whole milk yogurt.
Coconut Gelato by Cold Fusion. All I can say is, if you are a coconut fan
then you will LOVE this. It is creamy, with a perfect coconut flavor, and just the right
amount of sweetness. (This is not dairy-free, but I had it earlier in the week before I decided
to go dairy-free for awhile. Totally worth the tummy ache. YUM.)
With a happy belly, I bid you farewell. Until next time,