Big things are happening around here at Ladies Holiday and along with our hard work and dedication we'd like to acknowledge all you wonderful readers who inspire us to keep going. Thank you for coming back, following our RSS, friending on Facebook, Twitter, Google Friend Connect and leaving such sweet comments. It is our joy to connect with you and we'll soon be revealing an exciting way to do even more of that...hint...see the sidebar- our very own book hop the first Wednesday each month.
In the meantime, Local Sugar, a super-fabulous blog outta Hawaii hosts the weekly Aloha Friday Blog Hop and we're going to join the bandwagon and post the hop here on the weekends. That way Ladies Holiday readers can join Local Sugar's readers and we can all share the bloggy love. Plus get inspiration, share ideas, recipes and more!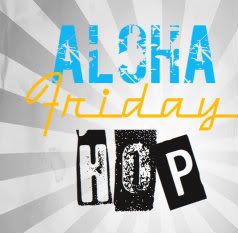 Along with entering in blog posts in the list below we are also going to feature a favorite blog each weekend.
Since
Local Sugar
is the host(ess) it makes sense to give a big shout-out to Nicole, writer extraordinaire, mama to two boys, wife to a kooky hubby and all around great gal livin' sweetly out loud. Her posts range from food (check out three delish
recipes
involving coconut oil) fashion (DIY
sandal
decos,) favorites,
photos
from Hawaii, beach livin', musings about her
kiddos
and deep and evocative thoughts about life. She also has a great
pinterest
page! Check out Local Sugar, it's pretty sweet!
Now for some blog hop deets- borrowed from the LS post:
Follow the hostess Local Sugar via

Google Friend Connect

,

Twitter and Bloglovin! And

Ladies Holiday

---please visit the sidebar to connect with us.
Link up

your blog name and URL

with the Linky below. You can do a separate entry for your blog, Twitter, Facebook, Google+ or Linky. We want everyone to get lots of follows and some sugar!!
Grab the Aloha Friday button (on the

Local Sugar

page) and include it in a post about the event on your blog and in your sidebar (if you want) to show some love and let everyone know that you participate in the weekly blog hop!
Go to as many blogs on the Linky as you want and FOLLOW them!!

Be sure to tell them that you are from Aloha Friday Blog Hop!!!
If someone is nice enough to follow you, why not show them some Aloha and some sugar and Follow back any followers you have gained

from the Aloha Friday Blog Hop!
The hop will be up for six days so spread the word!

This is all about sharing the Aloha spirit with other bloggers out there and helping each other to gain some exposure and find some awesome blogs to read!!! You don't have to be from Hawai'i to participate! In fact, we encourage and welcome people from all over the world to join us on this Aloha Friday Blog hop!
And that's it. We'd like to thank Nicole for being so generous to share her blog-hoppin'-love with all of us and to you for participating.
Aloha,