Like on Christmas morning we received an exciting "gift" in our inbox today- Loren and Cinthya of
Pandora's Craft Box
and
Eye Heart Blog,
respectively, selected Ladies Holiday as their Guest Host for the Friday Shout out Blog Hop. We are delighted and grateful for this opportunity to connect and share with all of you. Check out the details for how to include your blog for the Shout out and the Link-Hop below and let's celebrate! A big thank you to Loren and Cinthya!
What is this blog hop all about, you ask? Myself, Cinthya and a Guest Host ( this week:

Ladies Holiday

) will be hosting this blog hop every Friday for the duration of three days.

The Guest Host will be a featured blogger picked randomly every week (and can only be featured once every month) from the list of everyone who link up. They will have the benefit of joining Loren and Myself in hosting the Friday Shout-Out blog hop along with getting some free promotional space on our blogs

(hence the Shout-Out)

. We will post their button on our page for a week for free. Who doesn't love free advertisement?!
I am happy to introduced to you:
Ladies Holiday

:
Christine, Deirdre, Seana and Tamar.
How Ladies
Ladies Holiday
came to be...
Christine, Deirdre, Seana and Tamar were friends of various configurations when we came together to form a book club. The first title was Stephanie Meyer's Breaking Dawn. In hindsight, how apropos that a book filled with so much blood could serve to congeal strong friendships and ultimately inspire a blog about menstruating.
Ladies Holiday has since evolved from only working to dissolve the taboo over our monthly cycle to include everything from food to family, the home to health, our passion for the environment and so much more.
Our intent is to create quality articles, reviews and more that readers can relate to and learn from. We won't pretend to have all the answers, but encourage you to join us on this journey as we try to find a few and learn and grow along the way.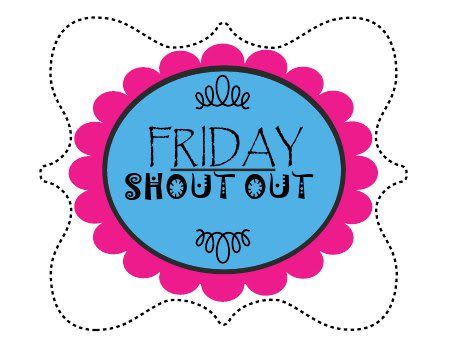 2. Be sure to link up the HOME page of your blog as this is a Social Blog Hop.
3. Be social and visit some of your fellow bloggers who linked ahead of you.
4. Post the "Friday Shout-Out" Button on your blog to show your support and spread the love. Help us make this blog hop grow.