Welcome to the Photo Friday with a Blog Link Up a.k.a Blog Hop!
Each Friday we share a photo that inspires us, is beautiful, delectable or otherwise interesting usually snapped right out of our own lives. Because we love photography, sharing visually and spreading the linky-love Photo Friday includes a blog link up focused on photos from your blogs. Each week we'll post (as usual) one of our own photos with an invitation to link up your own. It is okay if your photo accompanies a post.
All photos are taken by you, the owner of your blog, unless otherwise clearly attributed.




We ask that you follow Ladies Holiday via Google Friend Connect over to your right (and if you're feeling generous all manner of social media is always kindly appreciated.)




All content must be family friendly.




Please visit other bloggers who link up. We all appreciate readers, comments and building community.




Not required, but it would be such a treat to add our badge to your post or sidebar- please help spread the word about our hop. Simply copy the text in the box below and paste onto your blog (HTML screen.)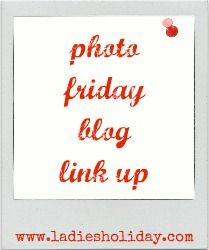 And our Photo Friday Contribution:
May the Force be with you!